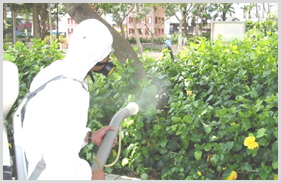 Mosquitoes
Each summer, hordes of these insects descend on backyards, parks and campgrounds. While most mosquitoes are merely nuisances, some can transmit serious diseases such as encephalitis and malaria in humans and heartworm disease in dogs.
Two different kinds of mosquitoes plague in Hong Kong. Floodwater (temporary pool) mosquitoes deposit their eggs singly in low-lying areas that will be flooded later. Under normal summer temperatures, large numbers of biting mosquitoes will emerge about two weeks after heavy rains and can be a major nuisance problem for several weeks. The most common of these in Hong Kong is the inland floodwater mosquito. A vicious biter, this mosquito will commonly fly 10 or more miles from where they hatch, particularly along prevailing winds.
Vector mosquitoes carry diseases and lay their eggs in stagnant ditches and sewage treatment ponds or water in treeholes, old tires, clogged gutters, old tin cans and anything else that will hold water. Eggs are laid on or just above the water surface, where they usually hatch within two to three days.
Another disease-carrying mosquito is the Asian tiger mosquito. An aggressive day-biting mosquito, it breeds in large numbers in water-filled artificial containers.